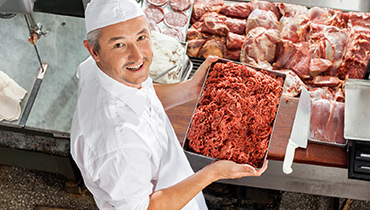 The market for organic meat and meat products is growing continuously. Nevertheless, it is still fragmented in small, regional units, and the qualities (with respect to cuts, organic guideline standards and hygiene standards) vary widely.
In order to bridge these differences and resolve these challenges, there is a need for a comprehensive overview of the organic market, a high level of communication expertise and reliable and honest market partners.
Worry free purchasing thanks to a secure raw materials supply
broad market overview of qualities and availability,
organic certainty thanks to complete knowledge of the organic guidelines and inspection of the market partners,
networking with virtually all organic producers in Europe,
supplier contacts, built up over many years, provide for planning certainty and product availability,
fulfillment of requirements our Customers for product origin and qualities, clear specification, inspection of cuts,
optimal combination of volume and price requirements,
quick market penetration thanks to optimal raw material supply,
logistic partners not only for transport and the cold chain but also for special requirements such as exterior packing, order picking, etc.
Statements by our customers
Gourmet restaurant "Ausflugslokal Zugspitze Sachsen"
chief of restaurant and kitchen – Frank Seeberger
During 21 years as a cuisine and restaurant manager, I have never got such good organic geese breasts before.The geese breasts from mb-Vermarktung were not fibrous, but so soft and tasty – just delicious!"
Head of purchasing, medium-sized meat processing industry
"Since 2013, we have reached high penetration of the German grocery retail sector with our organic sausage products. This would not have been possible without mb-Vermarktung, which ensures sufficient supply of organic raw materials – organic poultry in particular."
Head of production at a traditional medium-sized organic slaughtering operation
"Fair prices for a selected specialty, a perfect supplement to our core range of products."
German pet food producer
"mb-Vermarktung has been supplying us with our needs for meat products for six years now. Even for smaller quantities, delivery is quick and reliable. Any issues that arise are resolved quickly and flexibly."
Owner of the danish market leader for organic sausage products and meat products
"For over six years now, mb-Vermarktung has been supplying weekly with poultry meat for our sausage and pie production. Thanks to the European-wide contacts of Martin Bauer, mb-Vermarktung is even capable of supplying us with special raw materials that we would not be able to source in these quantities."
Dutch market leader for organic poultry
"Sourcing through mb-Vermarktung has enabled us to virtually double our turnover in Dutch retail trade."