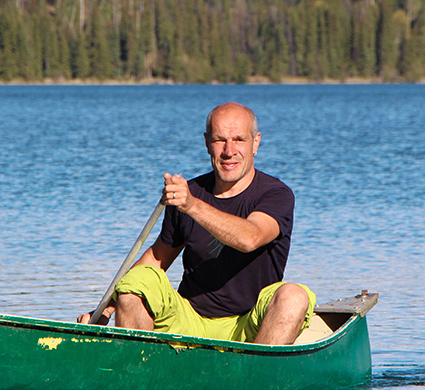 The company's founder
Martin Bauer, born in 1966
Already at the age of 16, I wanted to become an organic farmer. At age 19, my first mentor instilled in me a principle that has had a lasting influence on my actions:
"The foremost duty of an organic farmer, in tilling the fields, is to pass onto the next generation soil that is healthier (more fertile) than when he took it over from his father. If you stick to this principle, your respect for animals and other human beings will become second nature!"
This is the principle that motivates me:
in running my business, to be guided by sustainability in my thoughts and actions.
to treat other human beings in ways that we can always look one another in the eye.
to do things "well and properly", thus setting a positive example that will hopefully be carried on into the next generation.
Background
Trained organic farmer
University degree in Agricultural Engineering, Degree thesis on Organic Chicken Farming (1995)
My degree thesis was the first comprehensive study on the consequences of intensive chicken farming, and for the first time it pointed out relevant practical opportunities for organic chicken farming. The thesis had a decisive impact on current EU organic guidelines for organic chicken farming.
Bioland consultant (Bioland is Germany's largest organic food association) and organic inspector of agricultural businesses
Establishment of BioFleisch Süd GmbH, 1996 (the second German organic meat producer co-op)
Head of Sales at RoBert's Organic Poultry
Establishment of mb-Vermarktung in May 2009
Winner of the Baden-Württemberg state prize for young companies in 2016 (… read more)
Establishment of mb Bio-Vertrieb GmbH in May 2023