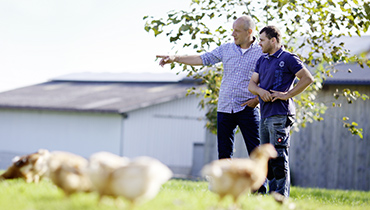 The requirements of the modern organic market can only be mastered through targeted division of labor.
Producing organic meat is a demanding task that in itself requires the full commitment of the producer.
It is known to us (and according to our understanding, it is also intended) that agricultural production is subject to fluctuations in natural cycles, all of which need to be taken into account and balanced.
Thanks to our national and European-wide collaboration with "long-standing traditional" and new customers, we are the bridge between the agricultural reality and the needs of customers.
You can grow thanks to our reliable distribution
reliable and long-term collaboration for many years of dependable acceptance of goods,
fair and stable prices,
planning stability, thanks to our trusted and long-standing customer loyalty programs,
consultation in production and regulatory issues in agriculture and processing,
consultation for "customized" marketing solutions,
broad market penetration thanks to our customers with varying requirements,
clear overview, thanks to many years of organic market knowledge
Statements by our contractors
Largest organic poultry producer in Italy
"Thanks to mb-Vermarktung, we were able to enter the northern European
organic poultry market. We were able to increase sales fivefold in this market within a
period of 4 years. 80% of organic exports to northern Europe are handled via
mb-Vermarktung."
Medium-sized processor for natural foods retail trade
"Through mb-Vermarktung, we are able to sell over-capacities thanks to new market segments,
e.g. the meat-processing industry."
German market leader for chicken meat
"We have been working with mb-Vermarktung for 5 years now. Our sales volumes have continued to increase, now comprising some 30% of our organic production. Both the handling of deliveries and payment of merchandise proceed smoothly and on time."